If you are contemplating the above, the chances are you are in a very fortunate position where your team have secured the network size or product penetration you or your client are looking for. However, this can be a difficult transition not only for the team but for the network or product you have launched. To deliver continued success/compliance and drive your business, your team need to fundamentally change how they operate.
To succeed in account management, sales staff need to change their role and their objective. Instead of pursuing short-term profit, they must concentrate on managing customer relationships and understanding the customer's whole business. Simple on paper but considering the human lens this transition is more complex, pivoting on both hearts & minds plus the new skills that need to be learnt.
The Team:
Definition of a great Salesperson:
'A great salesperson has more to offer customers than an exciting pitch they are enthusiastic individuals with resilience, and they take the time to get to know their customers' needs, show empathy, and deal in a product in confidence.'
Definition of a great Account Manager:
'A great Account Manager is someone who focuses on a structured approach to managing and nurturing customer relationships with their clients. They help the customer achieve their goals while making sure that they establish the most lucrative partnerships for your future.'
From this, if you have a team of "great" salespeople, there are similarities in the profiling of both roles, successful account management is about nurturing the relationships and building the trust and confidence of the customer gained by the sales process – a natural step in the relationship evolution. However, typically salespeople are driven by short term success, the thrill of conversion and tenacious to the point of persistence. Account management is about leading your customers with thought leadership and creating an exciting value vision. Ensuring the relationship continues to grow by solving their issues or challenges and making sure they are still the right partner for your business. Is it possible to transition one to the other?
At Cosine we have successfully transitioned Field Sales Teams from hard sales to account management, ensuring clients retain the talent to deliver success. We support this journey by working with our 'L&D Academy' an innovative and industry leading training team who help navigate the team through this journey by:
Profiling the type of personnel for the role

Developing a training plan using the four training transition pillars

Identifying the skills gaps and developing personal development plans

Delivering coaching & training both in classroom and at the point of execution
"At Our L&D Academy we, believe if someone has the right attitude and access to dynamic, impactful and inspiring training resources, they can learn to do anything."
Haley Pearce, Learning & Development Manager CPM UK
Although there is a crossover of skills, it is right to assume a move from Sales to Account management might not suit all your team and you would expect to see a churn of the current team not only due to skills, but also personality traits and team members missing the sales environment.
Other considerations for the team that need to be considered are:
Salary and package – the majority of sales team are paid on performance as well as a salary and this suits the competitive nature of a salesperson and the desire to succeed and benefit from their success. It important to review how you are going to pay the account management team and have a bonus structure based around rewarding for retention, compliance and increasing revenue within their territory.
Once you have the right team with skill gaps identified and the right training complete, it is essential to drive a pro-active approach by your team, they need to always ensure they are identifying new ways for the customers to achieve their goals.
Other tools resources to support the team to success in new role
The importance of Data – Cosine Connected
It is also important to give the team the right data to support their success in this new role as the account management team will be expected to turn the data into actionable insight. At cosine we have taken data insight to the next level. Our Connected methodology is fuelled by our unique and extensive data sources. Our data led strategy joins the combined forces of human interaction and digital intelligence. For this purpose, using the data to ensure the right resource is calling at the right time and frequency and has the data to drive actionable insight and in call conversations and action. Going forward using the insight to determine the best touch point to deliver continued growth whether that is face to face, telephone or digital interaction.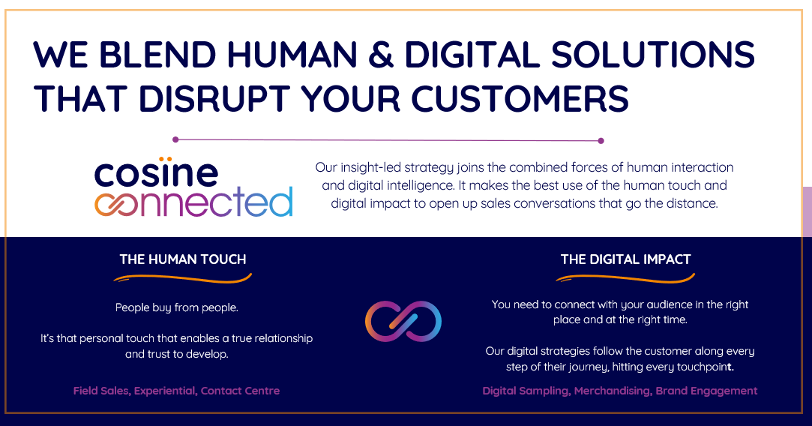 Case Study – Evolving a Cosine sales team on behalf of a

leading parcel delivery service
The challenge:
Our initial objective was to find, recruit and onboard 2,500 shops to manage parcels on behalf of our client. Once this objective was established our brief evolved, we became responsible for the ongoing development of the shops. Success was to maintain compliance, excellent customer experience and maximise revenue through parcel volumes.
This meant the team were no longer measured by day on the number of visits, prospects and sign ups achieved. New targets were established around shop compliance, number of failed collections, parcel investigations and speed of issue resolution.
Our challenge was to retain talent and support the team through this change as seamlessly as possible.
The solution:
We worked with "The Academy" to agree the roadmap for change.
We posed a series of internal questions:
Do the team know why we are changing?

Are they looking forward to change and can see the positive?

Are we all aligned on what good looks like?

What skills are necessary to thrive in the new role?

How can data support our coverage strategy and should other ways to engage be considered/
Working with The Academy we curated and delivered a training plan that addressed not only the functional skills required to be successful, but also considered the behaviours and mental resilience required for change.
Our data insights team reviewed the granular shop level data and built a dynamic coverage strategy. The data feed continually updates the outputs, assessing how well the shop is performing against its overall value in the network. This feed then attributes the best way to service that account in the moment. combining both field and telephone account management, working in harmony to best meet our client objectives and maximising return on their investment.
The results:
Our account management team has successfully maintained and onboarded over 6,000 shops in their network and achieved a 99% resolution to SLA. This increase has been possible with the introduction of the telephone account management team. Supported by The Academy we successfully equipped the team with the right skills and attitudes to champion this change, and through Cosine Connected, our client has been able to more than double their network without increasing the size of field team and drive down their cost per contact by half.
At Cosine, our first step is to understand your ambition. From there, we create and execute smart strategies using Cosine Connected to send your sales through the roof. We give you immediate returns on your investment with sustainable long-term growth through exceptional Account Management. All in one savvy sales strategy that breathes new life into your brand or service. If you would like us to manage your opportunities and talk Connected contact Kirstin Knight, Cosine Managing Director @ Kirstin.knight@cosineuk.com.